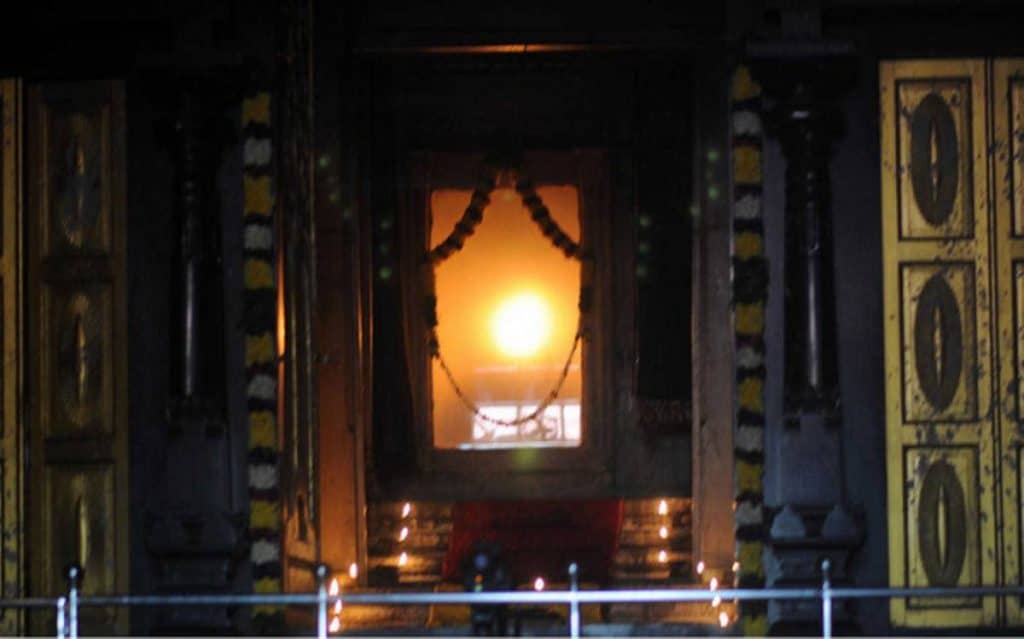 Arutperunjothi Agaval: Couplet: 770
உள்ளொளி யோங்கிட வுயிரொளி விளங்கிட
வெள்ளொளி காட்டிய மெய்யருட் கனலே!
Divine
Fire
Of
Truth
And
Compassion,
Which
Showed
Me
The
Pure
White
Light
Kindling
The
Inner
Light
And
The
Light
Of
My
Life
And
Soul,
OmniLight Of Supreme Compassion!
Notes:
This couplet begins the pentad of couplets (five couplets) which use fire (Tamil: கனல் – kaṉal) as a symbol of OmniLight and its transformative and wish-fulfilling powers.
This couplet refers to three manifestations of OmniLight: உள்ளொளி (ul oli) or Inner Light, உயிரொளி (uyir oli) or Light of Soul, and வெள்ளொளி (well oli) or Pure White Light. This வெள்ளொளி (well oli) or Pure White Light kindles the other two forms of light and sustains them.
There are many lines in Ramalingam's mature poems which celebrate the "Light within the Light within the Light" (Tamil: ஜோதியுள் ஜோதியுள் ஜோதி – Jothiyul Jothiyul Jothi) and so forth, implying that there are different manifestations of OmniLight, the Supreme Divine Light.
The Arutperunjothi Agaval is Ramalingam's magnum opus of spiritual enlightenment poetry composed in 798 couplets in 1872. In later posts, I will offer commentaries on these couplets.