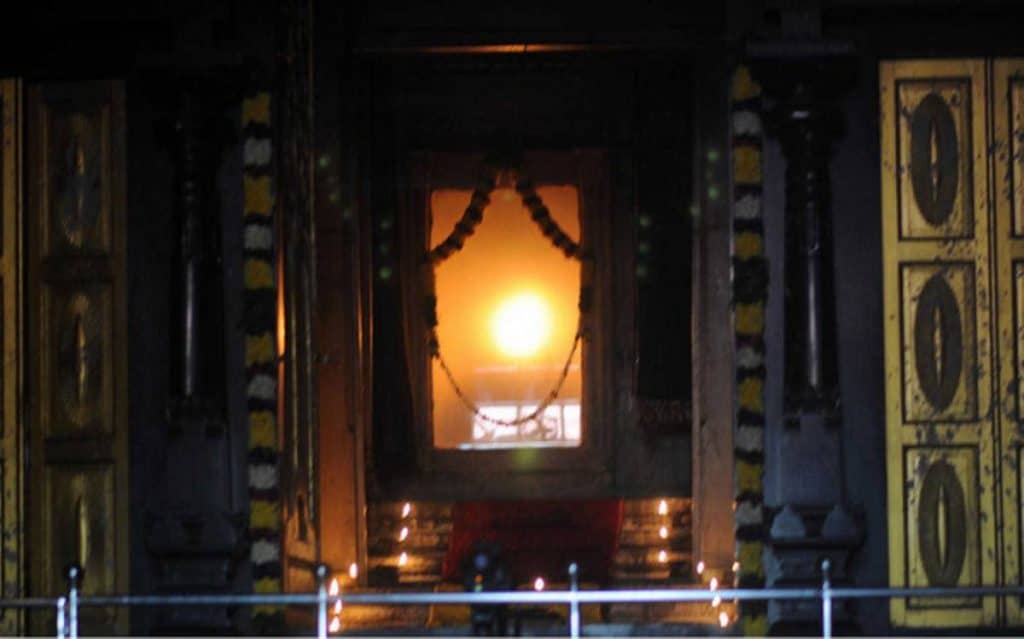 Symbol of OmniLight in the சத்திய ஞான சபை (Sathiya Gnana Sabhai) or The Great Hall of Truth-Knowledge, a place of special manifestation of OmniLight.
Arutperunjothi Agaval: Couplet: 721
என்பெரு நலமே யென்பெருங் குலமே
என்பெரு வலமே யென்பெரும் புலமே!
My
Greatest
Good,
My
Greatest
Fellowship,
My
Greatest
Strength,
And
My
Greatest
Specialty,
OmniLight Of Supreme Compassion!
Notes:
In this couplet, Ramalingam continues to celebrate his realization of the OmniLight and the nature of his realization.
The Tamil word "குலம்" (kulam) refers to membership or fellowship in a group, usually a clan or tribe. In praising the OmniLight as his "greatest clan", Ramalingam is implying that the Fellowship of the OmniLight, the Fellowship of its praise, pursuit, experience, and realization is the greatest fellowship.
The rhyming word "புலம்" (pulam) refers to field of specialization in knowledge and/or profession, a specialty. Ramalingam is celebrating that the OmniLight is his field of knowledge or specialty.
The Arutperunjothi Agaval is Ramalingam's magnum opus of spiritual enlightenment poetry composed in 798 couplets in 1872. In later posts, I will offer commentaries on these couplets.