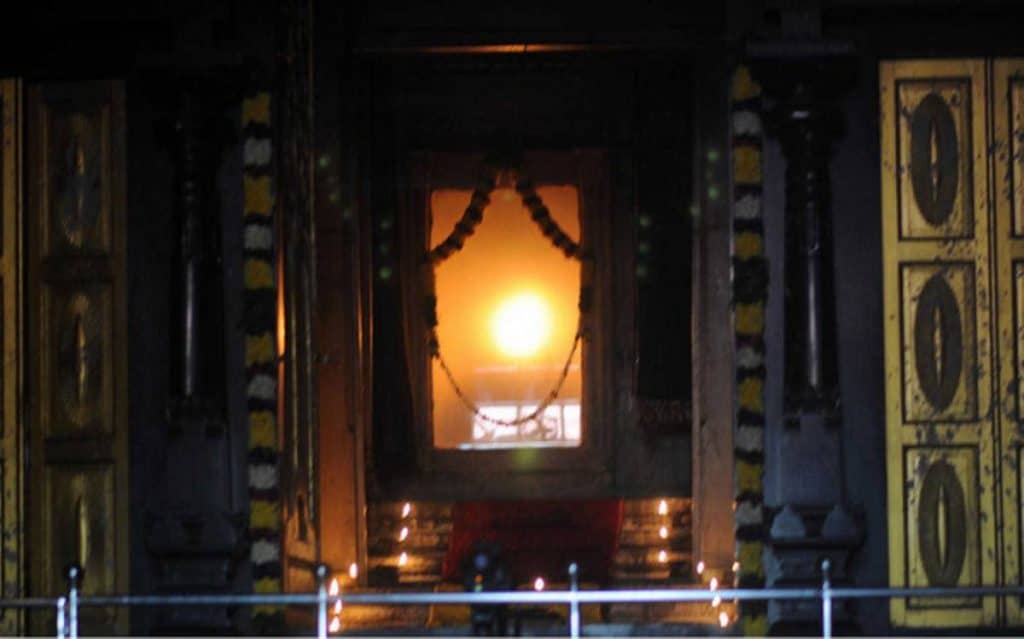 Symbol of OmniLight in the சத்திய ஞான சபை (Sathiya Gnana Sabhai) or The Great Hall of Truth-Knowledge, a place of special manifestation of OmniLight.
Arutperunjothi Agaval: Couplet: 732
தத்துவ மனைத்துந் தாமொருங் கொழிந்திடச்
சத்துவ மொன்றே தனித்துநின் றோங்கிட!
The
Other
Guṇas
Or
Tattuvam
Have
Departed,
The
One
Guṇa
Of
Sattuvam
Or
Goodness,
Tranquility,
And
Harmony
Alone
Remains
Ascendant,
OmniLight Of Supreme Compassion!
Notes:
This couplet continues the series of couplets which describe Ramalingam's extraordinary realization of the OmniLight. It is unique in the annals of religious or mystical experience.
After the previous couplets on the physical transformations accompanying Ramalingam's extraordinary experience and realization, this couplet continues to describe other transformations in his being.
The term "சத்துவம்" (Sattuvam) at the start of the second line refers to the Sattva Guṇa or attribute of tranquility and harmony. Hence, the term "தத்துவம்" (Tattuvam) in the first line must be construed as a reference to the other Guṇas or "qualities" of Rajas and Tamas. In this context, they refer respectively to passion and inertia.
The Guṇas (Tamil: குணம் or Guṇam; Sanskrit: गुण or Guṇa) or modes or "qualities" are threefold: Sattva or goodness, wisdom, tranquility, and harmony, Rajas or passion, "will-to-power", or assertion of force, and Tamas or stasis, inertia, sloth, and ignorance. These Guṇas, in their various modes of combination, are operative in external and internal nature, the external world and consciousness.
This couplet affirms that the Guṇas or "qualities" of Rajas and Tamas have departed and that only Sattva remains ascendant in Ramalingam's consciousness.
The Arutperunjothi Agaval is Ramalingam's magnum opus of spiritual enlightenment poetry composed in 798 couplets in 1872. In later posts, I will offer commentaries on these couplets.