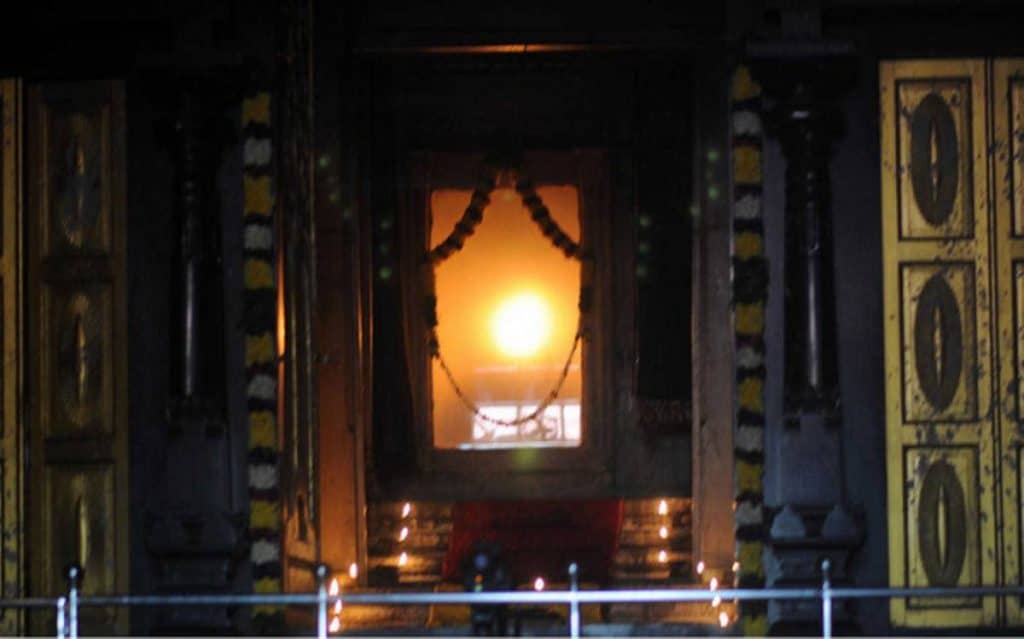 Symbol of OmniLight in the சத்திய ஞான சபை (Sathiya Gnana Sabhai) or The Great Hall of Truth-Knowledge, a place of special manifestation of OmniLight.
Arutperunjothi Agaval: Couplet: 39
உபயபக் கங்களு மொன்றெனக் காட்டிய
அபயசிற் சபையி லருட்பெருஞ் ஜோதி!
In
The
Mystic
Consciousness-Space
Of
Refuge,
Which
Reveals
The
Unity
Of
The
Two
Aspects,
OmniLight Of Supreme Compassion!
Notes:
Starting with couplet 14, these couplets refer to the higher spaces (Tamil: வெளி or Veli) and levels of consciousness in which the OmniLight manifests itself.
Another connotation of the Tamil expression "வெளி" (Veli), and its cognates "அம்பலம்" (Ambalam) and "சபை" (Sabhai), is the public hall, or assembly, or intersubjectively accessible space. Hence, the "public halls" or higher spaces of manifestation of OmniLight described in these couplets are accessible by qualified persons or beings in advanced states of conscious experience.
In this couplet, the Tamil term "உபயம்" (upayam) means "Two". The expression "பக்கம்" (pakkam) signifies "aspects" or "qualities". The two aspects are Being and Becoming, or Immutable Substance and Dynamic Energy.
This couplet affirms that there is a mystic consciousness-space of refuge or security (Tamil: அபயம் or apayam) which reveals the unity of these two aspects of the OmniLight.
The Arutperunjothi Agaval is Ramalingam's magnum opus of spiritual enlightenment poetry composed in 798 couplets in 1872.